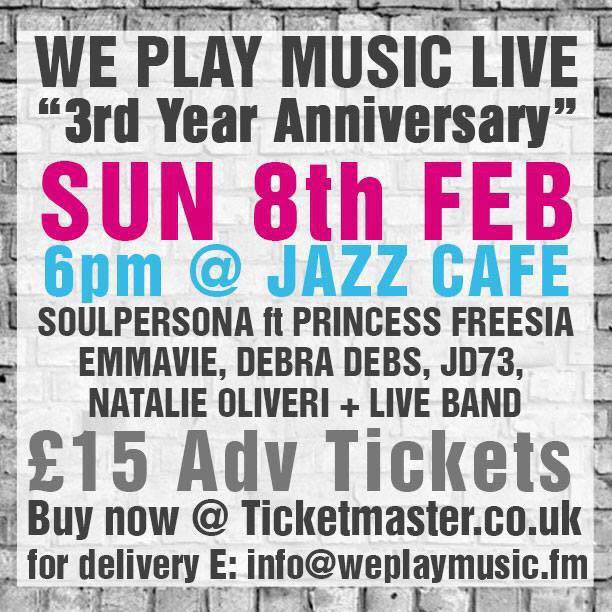 WE PLAY MUSIC – Live – SUNDAY 8th FEBRUARY 2015 @ JAZZ CAFE LONDON
---
London's Premier Live music show, WE PLAY MUSIC LIVE©,
 Returns on Sunday 8th February 2015 to celebrate our 3rd Year Anniversary at London's legendary live music venue,
The Jazz Cafe. We are very proud to present yet another stellar line-up of outstanding artists and musicians who will all share one stage for a night of impeccable live performance.
We never compromise on quality and as always our line-up of acts have been carefully chosen to make this another unforgettable and stunning show. In keeping with our anniversary event tradition we have invited a selection of some of the 100+ UK acts who have previously performed at WE PLAY MUSIC LIVE events over the past 3 years to perform with acts who are new to our stage.
Performing live on stage
SOULPERSONA + PRINCESS FREESIA
Musician, producer, remixer, arranger and founder of the Digisoul label, Soulpersona has worked alongside and remixed for many soulful artists including Jocelyn Brown, Charlie Wilson, Jody Watley, Deborah Bond & many more. Performing alongside Soulpersona will be Princess Freesia, a sultry and soulful Singer/Songwriter and producer, who together with Soul Persona has produced a vast number of melodic tracks to date, with their recent collaborative album titled "Amalgamation" under the SoulperFreesia guise.
DEBRA DEBS
A UK Soul Chart topping Neo-Soulful-RnB-Afro-Jazzy singer and winner of Best R&B/Soul Act at the 2014 UMA's, Debra Debs is a solid UK soul music artist who has worked with Maysa Leak, Chrisette Michele & more. Her album 'LifeCycles' is securing spots in many soul charts and receiving well deserved recognition. Debra Debs is no stranger to our We Play Music Live stage and she is sure to once again set that bar very high in the live performance stakes.
JD73
Dan Goldman aka JD73 is a producer, remixer and musician who blurs the lines of soul, funk and jazz and continually leads the UK forward thinking soul music scene. JD73 also gained acclaim from Dmitri from Paris & Groove Armada.
NATALIE OLIVERI
Her sound is infused with Latin Soul and mixed with her angelic voice, creative compositions and emotional-tinged lyrics, Natalie is capturing the attention of music lovers and carving out her place amongst 21st century female singer/songwriters.
EMMAVIE
A super talented Neo-Soul Producer & Singer/Songwriter who effortlessly merges her dreamy vocals with seamless deep rich beats reminiscent of the early Neo-Soul era. Emmavie has clearly shown her massive potential to make a lasting impact within music for years to come and is set to release a solo album very soon, one that will no doubt see her catapult into success.
FULL LIVE BAND on the night
Produced by DJ DLux
Hosts: Peaches & Lukan De Legend
Special anniversary DJ set by DJ DLUX #dejavufm #weplaymusic
#DejaVuFM #SoulOnASunday DJ's: Dj Woz, Nev G & GM Ice
This show will be broadcast live from Jazz Cafe on Deja Vu FM from 7pm.
ENTRY & TICKET INFORMATION
Live show starts at 6pm sharp
Limited Early Bird Tickets – £15 (standard)
Standard Tickets – £20
More on the door

Available from Jazz Cafe Box Office or Ticketmaster.co.uk .
BUY TICKETS > http://www.ticketmaster.co.uk/we-play-music-live-london/
Why pay more on the door?
https://www.facebook.com/events/790510197672599/?pnref=lhc.recent