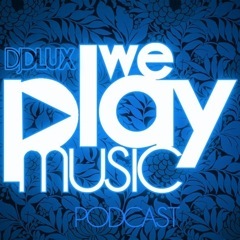 DJ DLUX & GM ICE 200th Episode of #WePlayMusic Podcast
---
WE PLAY MUSIC – Podcast Episode 200 – Deja Vu fm 27/7/14 – SoulOnASunday
Featuring music from; Kenny Burke, Tania Maria, Drizabone, Watergates, Adika Pongo, Joyclyn Brown, Soulpersona, Mystic Merlin, Blu James, jd73, Muz'art & Natasha Watts.
plus more.
Join Dlux on this milestone episode, following on from the EP100 Edition, WPM now hits its 200th Episode. On this show Dlux is joined by Joshua Jones who has the task of interviewing him throughout the show discussing the journey since episode 100, also joined by GM Ice, JT & Nev G with plenty of good banter throughout.
To download to your computer, or to play on your iPhone click here
Listen live every Sunday's 4-6pm (gmt) on www.dejavufm.com @DluxDejaVu @weplaymusiclive @GrandMasterIce- #SoulTreyda #SoulOnASunday
Why not listen live using the free and easy TuneIn Radio link http://tun.in/seJml
Its been 3 years since episode 100, here's the link to the Podcast so you can listen back to a radio classic.
http://dekcollectors.podomatic.com/entry/2011-06-22T07_10_46-07_00
http://dekcollectors.podomatic.com/entry/2011-06-22T07_08_45-07_00
http://dekcollectors.podomatic.com/entry/2011-06-22T07_07_17-07_00