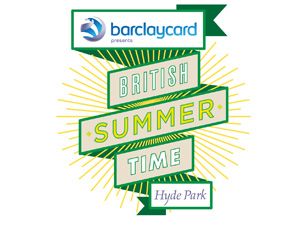 Kendrick Lamar at Hyde Park London
---
Kendrick Lamar at Hyde Park London
Barclaycard presents Kendrick Lamar @ British Summer Time Hyde Park
Multiple Grammy winner musician, platinum-selling Kendrick Lamar and BRIT Award winners Florence + The Machine are the latest to add their moniker to the illustrious list of former and future Hyde Park stars.
"It's a real honour to headline Barclaycard presents British Summer Time Hyde Park," says Florence Welch, "It's an iconic place to perform, especially for a British artist. I grew up in London. All of my first gigs were here. We will put on something really special. What's amazing is that we have free reign, so we are going to make something magical happen!
A triumphant homecoming in London for Florence Welch, it is affirmation of her huge success since 2009's debut album Lungs, which made her a household name in the music world. This year Florence returned with How Big, How Blue, How Beautiful which became her third album to reach number one, topping the charts in 7 countries including the UK and USA and was recently nominated for the Mercury Prize.
Florence + The Machine stepped up to headline Glastonbury Festival at the last minute when Foo Fighter's Dave Grohl broke his leg. Florence more than rose to the occasion proving herself to be one of the best live performers in the world today.
One of the most acclaimed hip-hop artists of his generation, Kendrick Lamar joins Florence + The Machine on July 2nd. The Compton, California native has been compared to Bob Dylan by Pharrell Williams who has also credited Kendrick with re-energising hip hop. His latest album, To Pimp A Butterfly, has been hailed as a masterpiece while garnering international critical acclaim. Kendrick Lamar in Hyde Park will be an unmissable experience.
Joining Florence and Kendrick on this line up is the fantastic Jamie XX. Founding member of seminal group The xx, who won the Mercury Music Prize in 2010 for their debut album xx, Jamie has since gone on to huge solo success, working with a plethora of the worlds biggest artists such Adele, Alicia Keys, Radiohead and Barclaycard presents BST Hyde Park's very own Florence + The Machine. Alongside his many projects was the internationally acclaimed album with Gill Scott Heron, released in 2011 it produced the hit single 'I'll Take Care Of U' which went on to be sampled by Drake on his track Take Care ft Rihanna. More recently, Jamie released his debut solo record In Colour to critical acclaim, reaching #3 in the UK, it has cemented his status as the go to producer, and man of the moment. Hyde Park awaits what will surely be the set of the summer.
BRIT Award-winning trip-folk star Cat Power brings her spellbinding mix of folk, country and blues to Hyde Park. Cat has collaborated with musicians as diverse as Dave Grohl and Yoko Ono and fans of her best selling albums Moon Pix and The Greatest will not want to miss this, as Hyde Park will be the only place to catch Cat this summer in London.
Also taking to the main stage on the 2nd July is Norwegian DJ and producer Todd Terje and The Olsens. Todd was ranked number 17 in Rolling Stone magazine's list of the "25 DJs That Rule the Earth" and has recorded mixes for BBC Radio 1's Essential Mix series. Nicknamed "King of the summer jams" by Mixmag, Todd's set is sure to get crowds grooving in Hyde Park. When joined by his live band the Olsens (featuring his brother on drums) they become a four piece musical whirlwind, bringing to life hits from Todd's debut album It's Album Time.
Hyde Park will also welcome the incredible, Blood Orange. Blending electronica and R&B, Blood Orange is the latest musical project by British singer and producer, Dev Hynes. A regular on 'Cool Lists' for almost a decade, Hynes launched Blood Orange in 2009 and has produced two widely acclaimed albums including 'Cupid Deluxe' which Pitchfork described as one of the "best albums of the decade". During the Blood Orange era, Hynes has also penned tracks for FKA Twigs, Sky Ferreira, Carly Rae Jepson and Solange, making him one of the most in-demand songwriters in the world right now.
Bringing jazz funk fun to the afternoon is Kamasi Washington. A genius on the tenor-sax, Kamasi is a force to be reckoned with and has played alongside some of the greats, including Snoop Dogg, Chaka Khan and Flying Lotus. The young jazz giant appeared on Kendrick Lamar's third album To Pimp a Butterfly, and in 2015 he also released his own solo album The Epic to immense critical acclaim.